How to Dress for Cold Weather
How to Dress for Cold Weather
From warm, fluffy parkas to ultra-lightweight rain shells, learn how to pick the right clothes for any winter scenario
Whether you're dealing with pouring rain, heavy snowfall, or simply a bout of extra cold air, wintertime brings lots of challenges when it comes to
staying warm
. If you're going to succeed, it's not enough to simply have
high-quality outdoor gear
—you need to know how to use it, which is often easier said than done. There are so many different types of outdoor apparel and tons of contrasting warming technologies out there (e.g.,
Omni-Heat™ Infinity
,
Black Dot™
,
Helix
, etc.). Where do you even start?
Fortunately, we had the opportunity to speak to Shelley Baltazar, senior apparel design manager for Columbia Sportswear, and Douglas Maguire, the brand's senior outerwear designer. The two experts broke down how winter apparel works and offered some useful tips for getting dressed for cold weather. "It all depends on your activities, who you are, and what you feel more comfortable wearing," Maguire explained. Check out their advice below.
When getting dressed to go outside in the wintertime you should consider three key factors: weather, activity level, and body temperature.
Principles of dressing for cold weather
According to Baltazar and Maguire, there are three main factors to consider when deciding what to wear on a winter day:
Weather: When thinking about the conditions outside, be as detailed as possible, they explained. Don't just stop at "cold"—how cold is it? Are we talking about freezing sub-zero conditions? If so, you'll want an extra warm parka with thick insulation, likely made of natural down. Or is it just a chilly nip in the air? In that case, a lightweight puffer coat might do just fine. Also think about elements like wind and precipitation. "If there's possible rain or snow in the forecast, you're going to want to consider something with a waterproof shell alongside your insulation so it doesn't wet out," Maguire said.
Activity level: The degree of exertion you're planning is another important factor when it comes to picking out winter clothes. Are you going to be trekking through powdery mountains on a backcountry ski mission? That's some serious cardio—you'll want a slim, lightweight jacket that's highly breathable so you can move freely and not overheat. On the other hand, if you'll be sitting on icy bleachers watching your kid's soccer game, you'll want to bundle up as much as possible, opting for a heavier jacket, likely paired with a hat, gloves, or a warm scarf.
Body temperature: Lastly, consider how hot or cold you tend to run. Are you someone who's always turning up the furnace when you're at home? Or do you tend to overheat easily, generally preferring to keep things cooler? "If you run hotter, you're going to want a lighter weight, layerable, insulated piece," explained Baltazar. "If you run colder, you're probably going to want a wide-channel puffer jacket to keep warm in the winter, maybe something with Omni-Heat Infinity or Black Dot technology. Those are going to be the warmest options."
Knowing how to layer properly with a baselayer, midlayer, and outer shell will help you stay warm in the wintertime and allow you greater control in regulating your body temperature. Jackets with gold liners like the one above have Omni-Heat Infinity technology which uses tiny reflective heat cells to add extra warmth to the coat.
The importance of layering
Part of
spending time outside
is learning how to adapt to changing conditions. This includes the weather, which can fluctuate rapidly, as well as your activity level. One minute you're hiking up a steep trail under a clear sky; the next, you're standing at the top of a mountain as a storm rolls in. The same can be true when you're trekking around the city. Knowing
how to layer
properly will help you stay prepared for whatever happens, whether you're
hiking in the wilderness
,
skiing on a mountain
, or walking around town. The best way to achieve this flexibility is with a simple three-layer system:
Baselayer: A thin layer that sits directly on your skin, helping to wick away moisture and manage sweat. If you get too hot, you can strip down to this bottom layer.
Midlayer: A layer that provides most of the warmth and insulation. It can be a cozy fleece, a warm knit top, or even a puffer jacket.
Outer shell: Intended as a barrier between you and the weather, this layer blocks rain, snow, wind, sleet, and any other elements you might encounter.
Some garments also combine these layers. For example, you can find insulated shells that provide both warmth and weather protection. Or there are convertible
interchange jackets
that zip apart, offering multiple layers in one coat.
Choosing a winter jacket type
Winter jackets come in
many types
, but there are three that are most common:
Puffer Jackets: Designed for everything from mildly chilly to extremely cold days, puffer coats are remarkably versatile. Generally speaking, although some are thick, puffer coats tend to be more lightweight compared to parkas. They're great for being active and moving around.
Parka: Made for cold to extra cold weather, parkas are usually thicker and heavier than puffer coats. They're often longer, with a more urban look, and some of them have faux fur liners in the hoods. If you live in an extra cold climate or have plans to travel to one, a parka will do a great job making you feel warm and cozy.
Rain jacket: Intended for wet or snowy weather, rain jackets have one primary objective: to prevent you from getting wet. They come in lots of different forms, but the uniting factor is that they're always waterproof or water-resistant. An outer shell can be worn as an exterior layering piece while insulated raincoats can provide warmth as well as weather protection.
What makes a jacket warm?
Despite the many different styles, all winter jackets have three components that affect their performance: insulation, construction, and outer shell. The way you mix and match these features, all of which come in varying degrees of protection, is what determines how much warmth and weather protection the jacket provides.
1. Insulation
This is the part that retains heat. There are two
types of insulation
:
synthetic and natural down
. Down is typically warmer, although it often doesn't handle moisture quite as well. "It's hard to make synthetic insulation warmer than a down feather," explained Maguire. "However, synthetic down like Thermarator™ is great because it tends to do better when wet. It doesn't clump and usually dries quicker."
Synthetic insulations like
Thermarator
™ and
Omni-Heat
™ work great for moderate to cold climates while
Turbodown
™, which is a blend of both synthetic and natural down, is ideal for cold to extreme cold climates. If you're seeking maximum warmth in an extra cold climate, opting for natural down (RDS) is often a good choice, or pairing a synthetic option with a warming technology like Omni-Heat™ Infinity or Black Dot.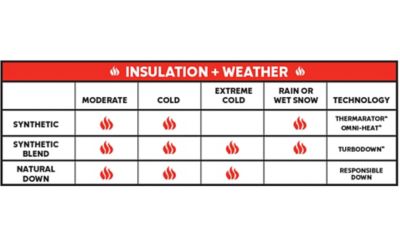 Choosing the right type of insulation for the climate and activity level is another factor in deciding how to dress for cold weather. Synthetic options like Thermarator™ and Omni-Heat™ are great for moderate to cold climates while Turbodown™ and natural down are ideal for cold to extreme cold settings.
In addition to the different insulation types, there are some jackets like windbreakers or lightweight rain shells that are insulation-free. In those cases, the point is to provide a thin layer of weather protection without adding extra warmth.
2. Construction
Construction refers to elements like liners or how the fabric is stitched together. These components can make a huge difference in terms of how warm a jacket is. Some popular construction technologies include:
When deciding what jacket to wear, consider which of the above technologies it has, and then evaluate what you'll be doing. If you're going to be participating in a high-cardio activity like
snowshoeing
or
cross country skiing
, a lighter-weight jacket with Omni-Heat™ Reflective might work best. If you'll be walking through town or sitting on a bumper tailgating with friends, you might want a thicker jacket with
Omni-Heat™ Infinity
for maximum warmth. Understanding how these technologies work can also help you decide what to wear underneath.
3. Outer shell
The final component is the jacket's outer shell. This is the part that creates a weather barrier between you and rain, snow, sleet, hail, wind, and other elements. Some technologies add water-resistance, while others provide extra warmth. Here are some of the more popular technologies:
WATERPROOFING: OutDry™ Extreme—Made with a special membrane that's laminated to the outside of the fabric, OutDry™ Extreme is Columbia Sportswear's most advanced waterproof technology. The ultra-breathable high-performance rain gear has won roughly two dozen awards, including Outside and SKI Magazine's "Gear of the Year." If you're going to be anywhere that's wet, a jacket with OutDry™ Extreme makes a great choice for your outer shell. It also comes in variations, including OutDry™ Extreme Mesh and OutDry™ Extreme Eco.
WATER-RESISTANCE: Omni-Tech™—Another option for water-resistance, Omni-Tech™ provides excellent waterproofing that is highly breathable. It is ideal for climates where there's rain and moisture, but it's not as heavy or consistent. It is also available in an even more robust Omni-Tech™ 3D.
ADDED WARMTH: Omni-Heat™ Black Dot—If you're in an extra cold environment, selecting a jacket or other article of clothing with Omni-Heat™ Black Dot technology will add heat and keep you warmer. It works similarly to Omni-Heat™ Reflective except the heat cells are on the outside of the jacket where the black dots can absorb sunlight and keep you warmer. "The idea is that they are going to trap heat from the sun and warm you from the outside in, whereas Omni-Heat Reflective and Omni-Heat Infinity will warm you from the inside out," explained Baltazar.