"IT'S PERFECT, NOW
MAKE IT BETTER."
This is the directive given by our very
own tough mother, Chairman Gert Boyle.
It's the reason we test our products
against every type of no good, day-ruining
condition the skies of the mighty Pacific
Northwest can deliver. Sure, it makes life
hell for us, but it means great gear for you.
So when Gert bestows her famous stamp
of approval, you're duly equipped to stay
outside long after the featherweights have
retreated indoors.
Finding the time to enjoy the outdoors can be complicated. Just ask Mamrie Hart, a comedian, writer, and actress. "My life can get hectic. I love nature and I say I want to be out there but I haven't in a really long time." So she leapt at the chance to hike the West Highland Way in Scotland alongside former Royal Marine and self-described "professional adventurer" Aldo Kane. "'I am hiking in Scotland' is a sentence I never thought I'd say," Mamrie chuckled. "Luckily they sent me in with the toughest dude I've ever heard of."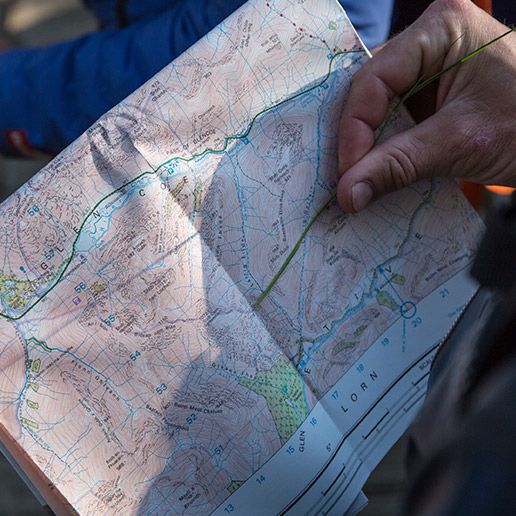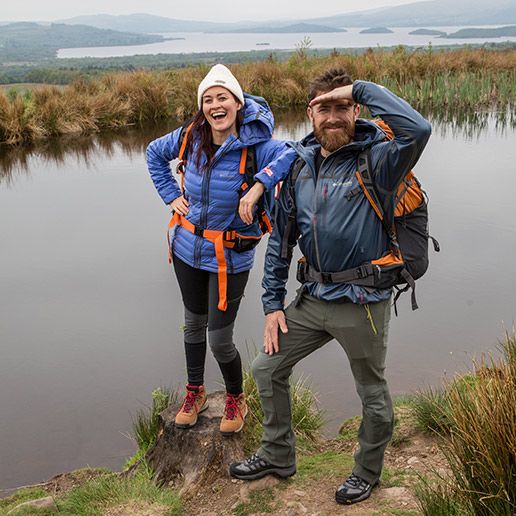 "COMING UP INTO THE MOUNTAINS IS JUST SO GOOD FOR YOUR SOUL. AND IF YOU CHALLENGE YOURSELF IN AN ENVIRONMENT LIKE THIS IT MAKES EVERYDAY LIFE AND WORK EASY."
—ALDO KANE
"THIS IS AN OPPORTUNITY OF A LIFETIME. YOU FORGET YOU NEED TO TAKE TIME OUT AND CONNECT WITH NATURE."
—MAMRIE HART
Being prepared for the unexpected is essential on this rugged 96-mile route. "Scotland is a hard environment," Aldo said. "One minute it's sunny, the next it's raining, so you really do need to carry everything with you." Including the will to press on. "I'm only operating on pride right now," Mamrie panted halfway up Conic Hill about 17 miles in. Once they reached the summit, she brightened at the sweeping view. "I knew it would be beautiful but I didn't know it would be this pristine."
"BEING HERE AND IT FEELING JUST SO OPEN, NOT HAVING ANY REAL CIVILIZATION AROUND YOU AND NO CARS HONKING, IT'S BEAUTIFUL."
—MAMRIE HART
Up soaring hills and down deep valleys, through marshy bogs and across tranquil lakes, Mamrie and Aldo reveled in the countryside and the camaraderie. Laughter and high fives were plentiful as they forged on until they finally reached their final destination—one of the oldest distilleries in Scotland. "They only got me to do this by promising Scotch," she cracked. But as they shared a hug to celebrate the journey's end, it was clear the ultimate reward was much more.
"SCOTLAND IN GENERAL IS A VERY HARD ENVIRONMENT. ONE MINUTE IT'S SUNNY, THE NEXT IT'S RAINING, SO YOU REALLY DO NEED TO CARRY EVERYTHING WITH YOU."
—ALDO KANE


DOT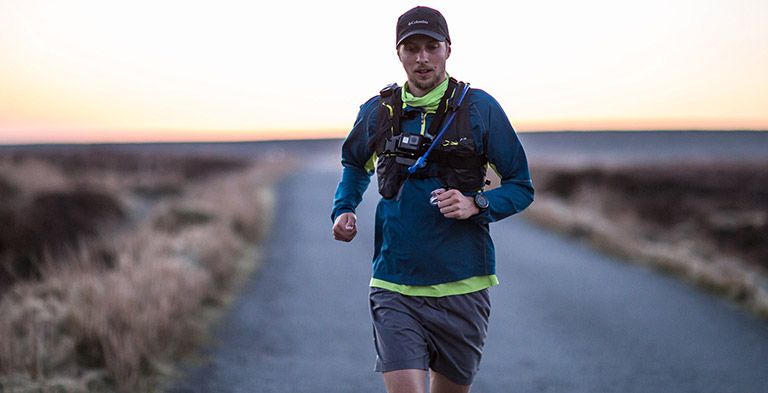 Columbia athlete Joe McConaughy chases an FKT on the Wicklow Round in Ireland.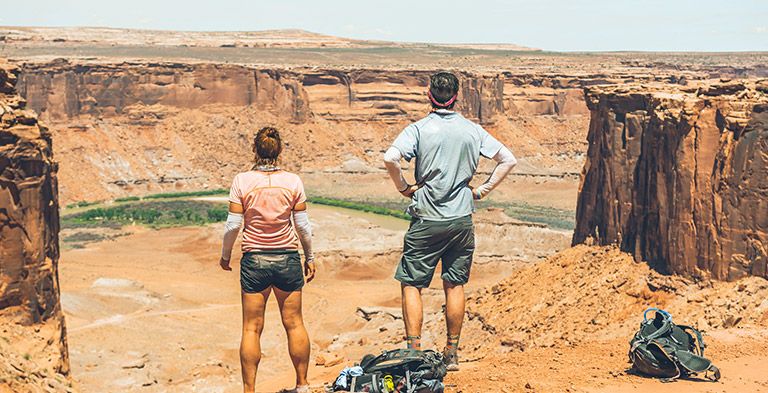 Navigating the White Rim Trail in Utah isn't for the faint of heart.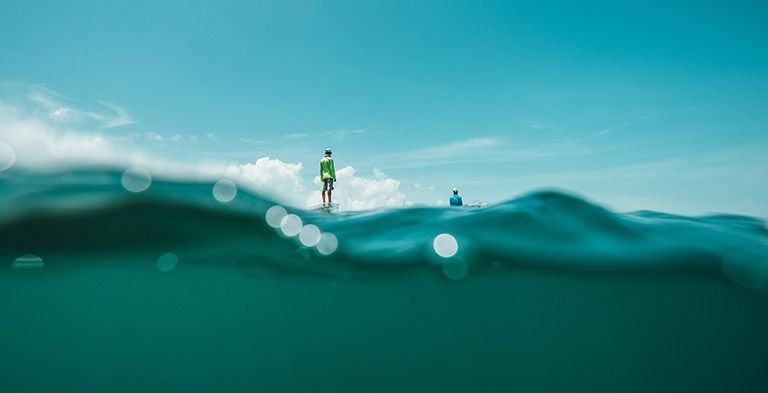 HOW TO MAKE A FISHING FILM
Marty Gillipeau and Dylan Schmitz of Badfish TV head to Belize to make a fishing film in 5 easy steps and catch some really big fish.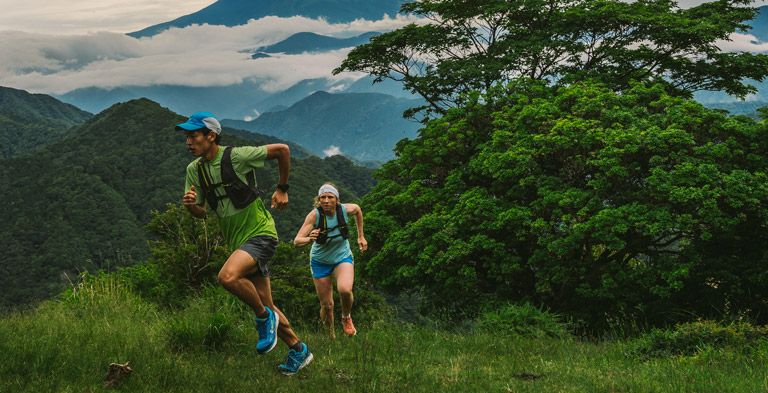 SIDEWALK TO SUMMIT IN TOKYO
Ruy Ueda and Sandrine Christin tested our latest Columbia Montrail road-to-trail running gear from Tokyo to Mt. Nabewari.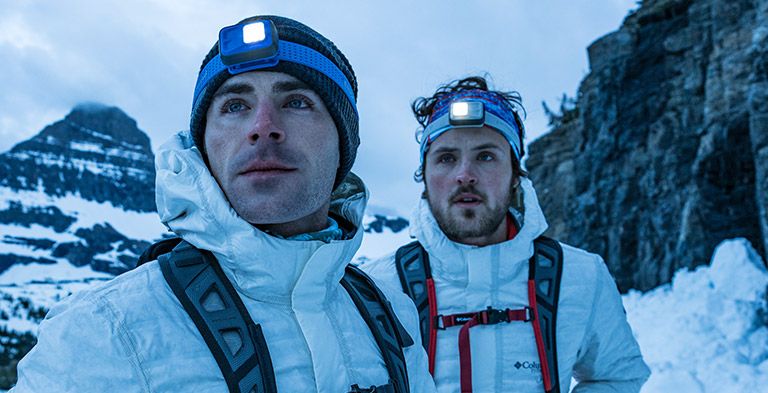 THE EFRONS IN GLACIER NATIONAL PARK
Zac and Dylan Efron ventured deep into the Montana wild to put our gear—and themselves—to the test from the shores of Lake McDonald to the slopes of the Continental Divide.
UNITED AGAINST THE ELEMENTS
Whether you're trekking through old-growth or cheering at Old Trafford, stay warm, dry, and protected with our special-edition Manchester United Collection.