Kid-Friendly Winter Activities To Get Them Outside
Kid-Friendly Winter Activities
To Get Them Outside
It's a familiar scene: The weather is freezing. The house is full of restless kids. And you've got an afternoon left to kill. What do you do? You've cycled through "Frozen" at least 20 times and you've practically memorized all of the Monopoly cards. If you hear that little toy engine beep again, you're afraid you might throw it out the window. There's only one solution: Take them outside. This may sound counterintuitive given the frigid temperatures, but wintertime is actually one of the best seasons to
get outside with kids.
As long as they're
properly bundled up
and
have the right equipment
the possibilities are endless.
To help you come up with some ideas, we've made a list below of some of the simplest and most enjoyable winter
activities to do outside with the kiddos
—for you and for them. Take a look to get some inspiration.
Winter Tubing
Tubing is a fantastic wintertime activity because it's easy to do and it doesn't require any special skills. Plus, it's fun for virtually every age set—the little ones can sit on your lap while the older ones can pile on the tubes together or give it a go alone. There are tons of ways to play: They can race each other, they can ride forwards, backwards, sideways, or in long, winding trains. What's more, you can go tubing anywhere. If you're crunched for time, it's as easy as walking around the corner to a nearby hill, but if you want to make a full day out of it, you can take them into the woods and enjoy the beautiful scenery too. Best of all, once you've got the inner tubes, it's free forever.
Cross-country Skiing
Taking the kids cross-country skiing is a wonderful strategy to get them out into the fresh air. It's fairly easy to learn how to do and, as a bonus, it's great exercise for them. Best of all, cross-country skiing is entertaining for you too. While they're having fun sliding around on the snow, you can soak up the pretty scenery and log your weekly cardio. Another perk is that it's a great excuse to see new parts of your city or state. Pick a new trail each weekend and soon you and your kids will have been all over the place, encouraging their curiosity as you discover new gems together. All you need is a set of skis (which are luckily available to rent), a pair of
warm kid's snow pants
, and a
good insulated jacket
.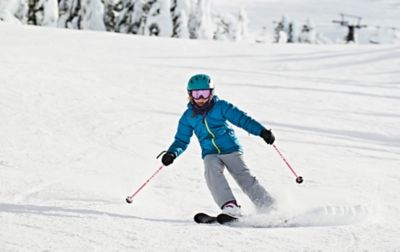 Skiing & Snowboarding
If your little ones are the adventurous types who thrive on adrenaline, downhill skiing or snowboarding will be a big hit. Although it may require a bit more planning in the beginning, the payoff is huge. Unlike adults who sometimes take longer to learn a new sport, children tend to pick up skiing quickly—and once they're hooked, it's something they can enjoy their whole lives. Plus, on top of all the fun and exercise, it's an activity that can provide an amazing community via classes, lessons, clubs, teams, and other groups. The key is to make sure they have
high-quality clothes
so they don't get cold, wet, or uncomfortable while they're still learning.
Snowshoeing
Another popular wintertime activity for kids is
snowshoeing
. Like tubing, it's easy to do and requires almost no training. (It's basically just walking, but in clunkier shoes). There aren't any lessons involved and it can be done anywhere there's snow. Falling down doesn't hurt as much because there's no speed involved and the snow tends to be soft and fluffy. Additionally, you'll get to see stunning scenery while you're out and about on the trails. And if you don't already know, there's almost nothing cuter than watching them take giant steps in their little mini mountain shoes.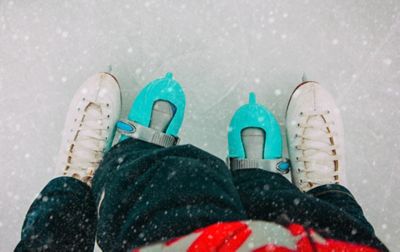 Ice Skating
Whether you go to an official skating rink or you hit the frozen lake or pond near your house, this is another cold-weather activity that ranks among the best for winter afternoons outside. It's a fabulous way for the kids to get out some energy and it appeals to all kinds of personality types—exciting enough to entertain the more adventurous kids, but not so scary that it's intimidating for the shier types. All ages can enjoy it and if they're old enough, you may be able to watch and relax from the sidelines.