How to Plan the Perfect Ski Trip
How to Plan the Perfect Ski Trip
Our planning tips will help you get ready for an epic winter ski trip
Winter is almost here and that means it's time to break out the ski or snowboard gear for that long-awaited ski trip. Sometimes planning a ski trip can feel a bit daunting, with lots of details to work out and
plenty of questions,
especially if you're new to skiing or snowboarding.
To make it a little easier, we've gathered our best tips and answered some of the most common questions. Whether you'll be traveling with family and friends or flying solo, this information will help ensure you have the best ski trip ever.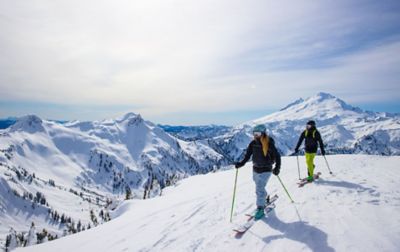 What do I need to consider for my first ski trip?
Lodging
First, consider how close to the ski resort you want to be. Do you want to stay on the mountain to maximize your time and stick to resort-related activities, or would you prefer to be in the city with more affordable options? Will you be satisfied with any hotel or is a cozy cabin on the mountain part of the ski trip allure?

There are pros and cons to each option, depending on the kind of atmosphere you're looking for. A ski resort hotel or lodge will be within walking distance of the slopes and likely have a lot of skiing-related character, including enticing mountain views and plenty of fireplaces to warm up next to.

The downside of ski resorts and lodges that provide ski-in-ski-out accommodations is that they're often more expensive and may limit your activities to just the mountain. But for your first destination ski trip, it might be a fun and memorable choice.

If you don't mind being further from the resort, a more affordable option may be a motel, Airbnb, or even a hostel in a nearby city or town. They will still offer a place to rest your head after a fun-filled day on the slopes, and will often be considerably cheaper.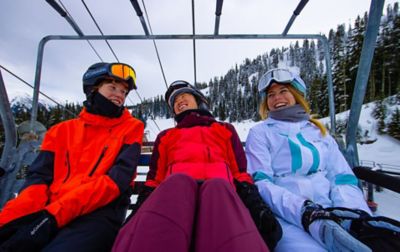 Ski tickets and packages
Every ski resort is different—smaller ski areas like Lookout Pass in Idaho or Hoodoo Ski Resort in Oregon offer lift tickets for under $100 and kids can ski for free, while lift tickets at larger resorts like Aspen or Deer Valley can cost over $200 per day at peak times. Multi-resort passes are also available that give you access to ski a few days at numerous resorts throughout the season. Examples include the Ikon Pass (Mammoth, Mt. Bachelor, Steamboat, etc.) and the Epic Pass (Vail, Whistler Blackcomb, Park City, etc.).
For a one- or two-day ski trip in the same location, buying day passes may be the best option. For longer excursions, especially those that cover more than one mountain, a package may be the most convenient way to go. When you're planning a budget for a family or friends ski trip, keep in mind that you may not need ski passes for every day. Ski resorts have lots of other fun activities such as
snowshoeing,
cross country skiing,
fat biking, and
playing outside with the kids.
Food and entertainment
Ski towns are full of restaurants and bars that offer mountain-themed dining options, as well as fun and entertainment off the slopes. In addition to exciting nightlife venues, these can include daytime activities like ice skating, craft markets, shopping, and street performers. Be aware, however, that prices tend to be higher if you're staying at the resort or somewhere on the mountain.

Friends and families on tighter ski trip budgets may want to consider picking a ski resort with close-by city or town that offers free or low-cost shuttle services to the mountain. Places like Mt. Hood Meadows (Hood River), Palisades Tahoe (Reno), or Arapahoe Basin (Denver) have more affordable food and entertainment options in the cities nearby. That said, cities don't offer the same mountain charm you'll find staying at all-inclusive resort like Aspen or Whistler.

If you're road tripping to your ski destination, you may want to consider bringing some nonperishables along with you. Folks who are flying can try to do a little grocery shopping in town before heading up the hill. And Airbnb users can save money by stocking up and taking advantage of the kitchen instead of dining out.
Common questions
Now that you know what to plan for, let's answer some common questions.
How do I prepare for my first ski trip?
Skiing requires winter clothes so if you don't already have warm, waterproof gear in your closet, the first thing you'll need to do is some shopping. You'll want a
high quality ski jacket
and
ski pants,
along with warm baselayers and accessories like
hats,
gloves,
socks,
and ski goggles.
Next you'll need gear. If you plan to buy your own, the basic pieces will include skis or a snowboard, bindings, helmet, boots, and poles. Make sure everything is
tuned up before you go
including sharpened and waxed. If you'll be renting gear, the rental facility will already have this taken care of.
It's also worth noting that you'll want to
get in shape for skiing,
especially if you've never skied or snowboarded before. This doesn't mean you need to run an Iron Man but you will want to train your legs and core muscles, and also build up some cardio fitness, so you can
enjoy yourself more on the mountain
. This also reduces the chances of injury.
What should I pack for my ski trip?
In addition to the ski gear that you wear on the mountain, be sure to
pack warm clothes
for your time off the slopes. Include a
warm fleece or midlayer,
puffy jacket,
hat, gloves, and warm pants and you'll be set to roam around the lodge or hit the town in comfort. Keep in mind that your
winter gear
will be bulkier than the items you pack for summer, so try to select just one or two of the key items. Invest in winter gear with high "warm to weight" ratios that provide maximum insulation with minimum bulk.
Another option is to bring a
3-in-1 interchange jacket
which will offer an insulated midlayer and a waterproof shell in one garment. Both pieces can be worn separately, or you can zip them together to wear as an insulated jacket.
Finally, make sure you take a warm pair of
snow boots
that provide solid traction on snow and ice as well as reliable nonslip footwear that you can wear on and off the slopes. And don't forget
socks
—you can never have enough warm, dry socks on a ski trip.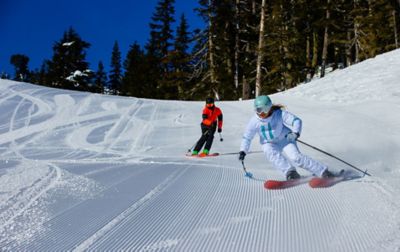 What should I consider when choosing a destination?
Some resorts have more expert terrain, while others are easier and more family-friendly, so it just depends on what kind of skiing experience you're looking for.

Different skiing conditions can be found in different regions of the country as well. The Rockies offer skiers lighter and drier snow, while Pacific Northwest snow is a bit wetter and heavier. The East Coast has lower elevations and slopes can sometimes get icy.

Consider whether you'd prefer a large resort with hundreds of runs but potentially long lift lines, or a small local hill with fewer runs and smaller crowds.

Ultimately, the best way to plan a ski vacation is by choosing what works best for your family or friends. There are plenty of options to help you tailor your trip to your skills and desires.
What is the best time to plan my ski trip?
The ski season typically runs from late November through April, depending on what kind of ski conditions you're looking for. Early-season skiing means less snow, but generally fewer crowds, and it's possible to find some good deals when you get a jump on the season.
The heart of the ski season is December through March, when most resorts have a good base in place and more frequent powder days. But be prepared that it will be probably more crowded, and some resorts raise the prices at peak times.
Spring skiing
can be a great option with slushy corn snow and sunny, bluebird days. The drawback to this time of year is that you're less likely to ski fresh powder, and there may be rocks and patches of grass starting to poke through the snow.
Holidays and spring break are the busiest times of the year. Prices often spike during these times, and some passes have blackout days that can't be used during those times.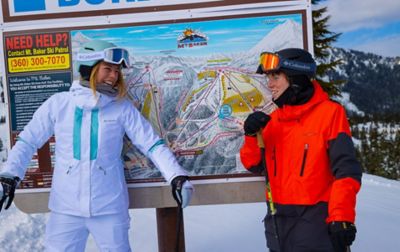 Is skiing safe?
Skiing comes with an element of risk, but there are ways to minimize this and better ensure you return home safe and sound. Always ski within bounds and don't attempt ski runs that are beyond your ability. Most trails are marked with green circles (beginner), blue squares, (intermediate), black diamonds (advanced), or double black diamonds (experts only).

Nearly every ski resort has ski patrollers on the mountain that are ready to respond at any time to accidents or medical emergencies. In addition to being competent skiers, they have completed classes in Outdoor Emergency Care (OEC), and many are licensed EMTs or paramedics. They respond to emergencies and also patrol the mountain throughout the day, ensuring that obstacles such as rocks or trees are marked, and avalanche areas are controlled. Most mountain resorts also have a clinic somewhere that provides medical care.

If you're new to skiing and have health issues that could be affected by the exertion, be sure to consult a doctor prior to your trip. Always wear a helmet, and consider taking advantage of any lessons offered at your resort. Purchasing ski travel insurance can help protect your ski trip investment. There are different plans and options, but you can pay a bit more up front to ensure that if anything happens, you're covered.
How many days should my ski trip be?
For some families, one or two days on the slopes is more than enough. Other hardcore skiers and snowboarders may want to allow for a week or more.

If you have the time and money for a longer trip, consider your fitness level. Skiing for a week straight can take a toll on anyone's body. If your ski trip itinerary includes other activities, consider allowing a couple of rest days to let your legs recover before getting back to the slopes.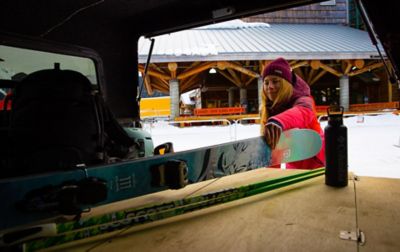 Should I rent or buy skis?
If it's your first time skiing or snowboarding, renting is often the more practical choice. It gives you the chance to decide whether you like the sport enough to invest in buying gear. And renting is typically more affordable for those on a tight budget.

If you're driving to the resort and have your own gear, bringing it along makes the most sense. But if you're flying and on a budget, it often makes more sense to rent and spare yourself the checked-baggage fees.

Pro tip: Even if you decide to rent skis or a snowboard, it's still a good idea to bring your own boots, especially if they're already broken in. A good pair of boots that fit your feet will make the day on the hill much more enjoyable.
Should I take a ski or snowboard lesson?
If you have never skied or
snowboarded
before, it's worth making time in your ski trip itinerary to take a lesson. It will be far less frustrating as a beginner than trying to figure it out on your own, and you'll learn how to do it safely from the start.
A lesson or two will help beginners feel more confident and, in addition to learning
how to become a better skier,
it will be more enjoyable. And for parents, a lesson can be time to themselves while the kids learn the basics.
Whether you're a beginner, intermediate, or more experienced skier, a lesson is never a bad investment. And learning from a local can open up the terrain while you learn some new moves.