Parkas vs. Puffer Jackets: What's the Difference?
Parkas vs. Puffer Jackets: What's the Difference?
A jacket expert explains the differences between these two popular types of coats
When the cold winter months arrive, it's time to
choose your jacket
. The falling snow and blustery winds won't let you forget. But the question is, do you choose a parka or a puffer? Both jackets will keep you warm, but as you'll learn, each one has some key distinctions.
Just like when you're choosing between a
rain jacket and windbreaker
, the choice between parka and puffer isn't always as straightforward as you may think. So we reached out to Dorothy Hopkins, apparel design manager for Columbia Sportswear. We asked her questions about all things parkas and puffers—the differences, the similarities, and why you would choose one over the other. Here were her responses.
What is the difference between a parka and a puffer jacket?
Generally speaking,
parkas
tend to be heavier and longer in length, with a large hood that's often lined with faux fur.
Puffer jackets
, on the other hand, are typically thinner and more lightweight. Hopkins explains that they can be hooded or non-hooded and come in varying lengths. And while puffer jackets will keep you warm in cold weather, parkas generally handle extreme cold better, she says.
PARKAS
Longer in length, typically below the waist
Thicker and sometimes heavier
Large insulated hood, often lined
with faux fur for extra warmth
Worn as an outer jacket
High performance in cold to extremely cold weather
PUFFERS
Available in a wide variety of lengths
Lightweight and bulk-free
Versatility of hoods; sometimes hood-free
Can be worn as a jacket or a midlayer
High performance in mild, moderate, and cold weather

Now, before we elaborate on these differences in more detail, let's talk about each jacket individually.
PARKAS
What is a parka?
A parka typically refers to a longer-length insulated jacket that's meant to be worn in very cold temperatures and climates, providing both warmth and weather protection. Most feature a protective insulated hood with traditional parkas often having real or faux fur trim. Hopkins explains that while they typically extend just past the hip, parkas can be as long as ankle length for maximum coverage. These longer parkas usually have snaps or zippers along the side to allow for sitting and overall better mobility. Fit-wise, parkas are often roomier, allowing for more warm insulation inside the jacket.
Is a parka a good jacket for winter?
Insulated parkas make excellent choices for winter outerwear, especially in very cold weather environments. Hopkins notes that parkas offer the warmest protection for extremely cold winter seasons and are commonly considered the warmest type of winter jacket you can purchase.
Are there different types of parkas?
Yes,
parkas
come in many forms. Traditional ski parkas are designed for extremely cold and snowy temperatures on the mountain, and usually feature waterproof or water-resistant synthetic fabrics, Hopkins explains. "They showcase natural or synthetic down insulation to keep you extra warm in super cold conditions." There are also lifestyle parkas which tend to be both stylish and warm. These parkas sometimes feature more natural fibers like wool, or cotton-nylon blends that are paired with either natural or synthetic down insulation. They can also be designed with an overcoat or belted look that is easy to layer over different outfits and underlayers. Lastly, there are longer-length "puffer parkas," which look like parka-puffer hybrids. These have been increasing in popularity, offering a blend of both qualities.
Are parkas waterproof?
Yes, parkas are usually constructed of
waterproof or water-resistant
materials. These not only keep you dry but also keep the insulation dry, which in turn keeps you warmer in cold winter environments. This is especially important for natural down insulation, which doesn't perform as well when wet, says Hopkins. She also notes that not all parkas are built the same. "The weatherproof-ness will depend on the the material of the parka, the construction, and what environment it is meant to be worn in."
What are parkas made of?
Parkas can be made from a variety of materials but the best ones tend to feature durable nylon or polyester blends that are both waterproof and breathable, while also being able to withstand heavy wind. Some may have a splash of cotton or faille blend added in for softness and comfort. Hopkins notes that high-quality parkas typically feature high-fill
Responsible Down Standard
(RDS) goose down, often mixed with recycled polyester fill to give it extra durability, breathability, and waterproofness. Options with silver or gold reflective linings such as
Omni-Heat™
or
Omni-Heat™ Infinity
amp up the warmth factor even more, as do jackets with special waterproofing technology like
OutDry™ Extreme
. "By sandwiching waterproof and breathable outer shell fabrics such as
OutDry™ Extreme
with a super warm RDS goose down or fluffy synthetic insulation fill, and finishing the jacket with our warmest
Omni-Heat Infinity
lining, there's no doubt that the end result is a parka that keeps you toasty warm and protected in any extreme winter climate."
What makes a good parka?
The best parka is the one that's right for you, depending on the environment you're in and the type of protection you're looking for. If you're someone who spends a lot of time outside in more extreme winter conditions, an extra-long waterproof parka with heavy insulation and a large protective hood is probably your best choice. If you're looking for something more lightweight that you can wear
around the city
in milder winter weather, or be more active in, Hopkins suggests looking for a shorter parka made with natural fiber fabrics like wool and cotton blends that use lighter insulation.
What makes parkas so popular?
In a word, warmth. Parkas are
extremely warm
. Add to that durability, versatility, and extra length—and parkas give you maximum protection from the snow, rain, wind, and cold. Hopkins adds, "Parkas are also extra popular because they can be used both on the mountain and in the city. They provide exceptional warmth, and the roomier fit gives them versatile layering opportunities. Parkas can be worn over different underlayers like sweaters, fleece, or knits."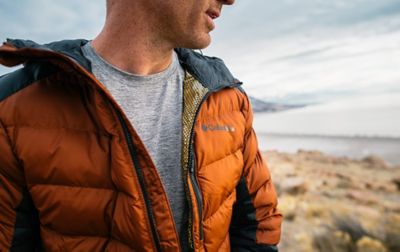 PUFFERS
What are the different types of puffers?
There are a variety of
puffer jackets to choose from
, which feature different silhouettes, body lengths, shapes, fabrications, and designs. "You can find puffer jackets that are cropped, mid-length, extra long, with or without hoods, zip front, snap front, pullovers, printed, solids, and color-blocked in a large variety of puffer insulation fills, from super lightweight to heavyweight, in every quilting pattern imaginable," Hopkins explains.
Traditional full-zip puffer jackets are available with or without hoods and can be worn as a warm midlayer between a baselayer and outer waterproof shell. But thanks to the versatility and lightweight aspects of the traditional puffer jackets, many choose to wear them as their main jacket during the spring, fall, and milder winter months. "If additional warmth and protection is called for, an additional outer jacket can always be added," Hopkins points out.
What are puffer jackets made of?
Puffer jackets are usually made out of polyester or nylon fabrics. These materials tend to be lightweight and durable while also being water-resistant, wind-resistant, and down-proof (meaning insulation won't poke through the fabric). Many puffer coats feature performance insulation such as Omni-Heat™ or
Thermarator™
as well as reflective liners like
Omni-Heat™ Infinity
, which uses NASA-inspired heat cells to add extra warmth.
Are puffer jackets waterproof?
The
waterproofness
of puffers can vary depending on fabrications, explains Hopkins. They can range from fully waterproof to water-resistant to no water-repellency at all. But, she adds, most traditional outdoor puffers that are quilted and designed for cold-weather conditions feature at least some type of water-resistance and windproof-ness that is inherent to the fabrics they are constructed of.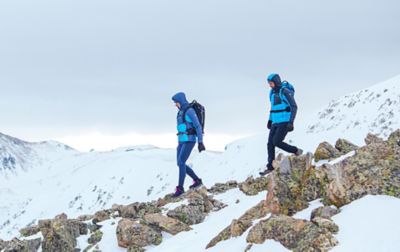 How is a puffer jacket different from a down jacket?
A puffer jacket is a broader term that encompasses any and all quilted insulated jackets. They can be made with either
natural down insulation or a synthetic fill
. Down jackets refer specifically to the type of puffer coats that are filled with natural insulation made from goose or duck down.
What's the difference between synthetic vs. natural down?
Down insulation uses all-natural goose or duck down to achieve warmth, while synthetic insulation relies on man-made materials like polyester. Natural down is extremely lightweight, compressible, warm, and is known for having a long lifespan. However, its performance tends to decrease when it gets wet. "The lofty nature of down allows air to be trapped between its filaments, which is then heated by your body heat," Hopkins explains.

Synthetic down, on the other hand, refers to man-made down that's designed to replicate the quality and warmth of real down with materials that can handle getting wet a little better. It's typically made from polyester fibers that mimic down's air-trapping abilities to hold in heat. Synthetic down isn't quite as light or compressible as natural down, but it excels in wet-weather climates, maintaining its fill power when wet. "It actually stays breathable and continues to insulate when soaked, while also drying out more quickly than down," Hopkins says.
What makes a good puffer jacket?
When picking the right puffer jacket, Hopkins recommends asking yourself what climates and activities you're planning to wear it in. Do you want a burly winter jacket for extreme cold, or something more versatile that can be worn during seasonal transitions? Will you be wearing it in wet climates? How important is weight and packability?

For super lightweight warmth, Hopkins suggests looking for a natural down-filled puffer jacket, specifically made with RDS-certified down, while people in damper climates may want to opt for a synthetic puffer. Hopkins also points out that the quilting pattern will determine how much "puff" your jacket will have. "Typically, smaller quilted patterns have a lighter more evenly distributed fill and larger quilted baffles will be warmer with more puff."
Is a puffer jacket good for winter?
Puffer jackets are among the best options for winter jackets. "They come in a variety of insulation weights, lengths, and silhouettes, so you can always find the right one for you," Hopkins says. She points out that they're the perfect combination of lightweight warmth and comfort for colder climates. They're also often both water-resistant and windproof, and are versatile enough to be worn as a main jacket or as a midlayer under an outer shell.
Why are puffer jackets so popular?
To explain the puffer's popularity, Hopkins points to their versatility, able to be worn across many different seasons as a main jacket or layering piece. "Puffer jackets exude comfort with their quilted and padded nature, allowing them to give the look and feel of ultimate coziness."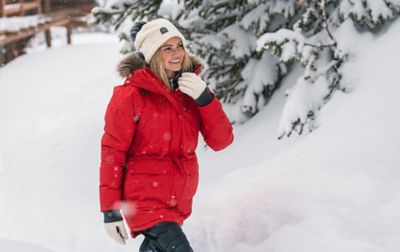 THE COMPARISON
Now that we have a better understanding of each jacket, let's get into more detail about some of their key differences.
Which one is warmer—a parka or a puffer jacket? What about down jackets?
Parkas are traditionally built to be warmer and more durable to the elements, compared to puffer jackets. That said, puffer jackets nowadays are also very warm, with the added benefit of being less bulky.
Which one is more breathable—a parka or a puffer jacket?
Puffer jackets tend to be more breathable because they are lighter in weight. Those with synthetic insulation also tend to dry more quickly when they get wet. Parkas, on the other hand, are thicker and burlier, but many have pit zips or other ventilation features that allow trapped heat to escape. This helps compensate for fabric that is slightly less breathable.
Which one is more waterproof—a parka or a puffer jacket?
Generally speaking, both parkas and puffer jackets typically offer some degree of water-resistance and wind-proofing. How much they offer depends on the style of the jacket. Puffers made out of nylon or polyester almost always feature a durable water repellent and also have wind- and down-proofness. Mountain parkas are meant to be worn in snowy conditions and will always be waterproof. City parkas designed for urban outings might not have as much in the way of waterproofing but will oftentimes feature water-resistance.
Parka or puffer—which one is better?
The choice between a parka and puffer coat is largely a matter of personal preference. However, there are two key factors that play a big role—weather conditions and activity level. Parkas are typically better for people who live in extremely cold climates and aren't engaging in cardio activities. Puffers make good choices if you're hiking,
snowshoeing
, or walking around town in less extreme cold-weather climates. Of course, in the end, who says your closet can't have both?