The Complete Packing List for Your RV Camping Adventure
The Complete Packing List
for Your RV Camping Adventure
Here's your checklist of everything you need for RV camping and van life adventures
Whether it's a weekend trip to a nearby campground, a summerlong
national parks tour,
or an
overlanding adventure
you need to be stocked and prepared when you're RV camping. For as long as the camping trip lasts, your van or RV will be your home away from home, so you want to make sure you have everything you need, and not too many things you don't.
Before you start deciding what to pack, let's begin by answering a few questions you may be asking yourself.
How do I prepare for my first RV or van camping trip?
Whether it's your first or 50th outing, you should always start any van or RV trip with an overall check of your vehicle. Check all fluid levels and make sure your tires are in good condition. You'll also want to check that your battery is fully charged, especially if you'll be boondocking away from any electrical hookups. And lastly, make sure your freshwater tank and propane tanks are full.
How can I increase my RV storage?
Instead of figuring out how to store more, you may be better off focusing on how to bring less. One sure-fire way to lighten your load is to ensure you only have things packed for the current season. There's no sense having
snow boots
and
winter clothes
tucked away for a mid-July getaway.
Another great way to avoid overpacking is to choose items with multiple uses whenever possible, from a 7-in-1 instant pot to a
3-in-1 jacket.
The more things it can do, the more space you save. (SIDE NOTE: A good list of
camping hacks
can go a long way in getting the most out of the things you bring.) Also, look for things specifically designed for camping—they're typically more compact and sometimes even collapsible to help you pack more efficiently.
Now, with those basic questions answered, let's take a look at some RV camping essentials across a few different categories.
The must-haves of RV or van life camping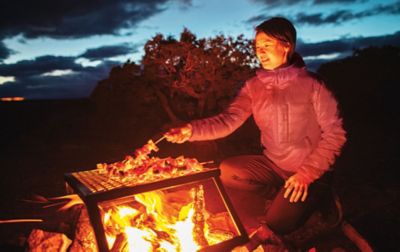 Cooking and kitchen
When it comes to what food and kitchen supplies to pack, the main thing to decide is how well you want to eat while you're camping. Are you happy with fire-roasted hot dogs and
easy-to-prepare meals
like boxed mac and cheese? Or does the wilderness inspire you to create
five-star camping meals?
The other main thing to consider is where you'll be cooking. Does your van or RV have a well-stocked kitchen, or will you be cooking outdoors, using the tried-and-true combination of campfire and a portable camp stove? Not only will this help you know what you need to bring, it will also affect what you have the ability to cook.
THE ESSENTIALS
Portable camp stove
– Your van or RV may have a fully functional kitchen, but an outdoor kitchen setup will keep the inside of your rig from smelling like last night's dinner.
Instant pot
– Kitchen space is at a premium, so look for appliances that can do multiple things. With an instant pot, you can make everything from rice to chili to pulled pork with ease. Just note that if you're using solar power, it can be a higher-consumption appliance.
Cooler
– Even if your van or RV has a refrigerator, you'll want a
high-performance cooler
for overflow things like your favorite beverages. You may also want to consider a more portable cooler for taking food and drinks on the go—down to the lake, on a hike, etc.
Cookware
– When it comes to
camping cookware,
a set of nesting pots and pans is a great way to save valuable space while ensuring you have what you need to spread your culinary wings. And don't forget your trusty cast iron pan that works just as great on an RV cooktop as it does over an open fire.
Spices
– There's a reason people once risked their lives by crossing oceans to obtain spices. Even a basic spice collection goes a long way to flavor your camp cookouts. And to save space, use
Tic Tac containers
to keep your favorites on hand.
Snacks
– Meal planning is essential to successfully stock your RV or van kitchen with food, but make sure not to overlook snacks, whether for quick energy on a hike or keeping hunger away in between meals.
Sleeping and bedding
When it comes to deciding on what bedding to bring, first decide where people will be sleeping. If they're sleeping in the van or RV, you'll need
sheets, pillows, and blankets
for the beds. But if people are choosing to sleep a little closer to nature, you'll want to focus on
tents
and sleeping bags.
THE ESSENTIALS
Sheets
– One of the best parts of RV camping is having the comfort of an actual bed. But to fully take advantage of that comfort, you'll need a good set of sheets, if not two—camping is dirty business.
Pillows
– The difference between
glamping
and roughing it is a pillow. While they may be slightly bulky, most say they're worth every bit of RV space they take up.
Tent
– Maybe your van or RV doesn't have enough sleeping room for everyone, or maybe you prefer to sleep out in the great outdoors. In either case, a tent will help you stay dry and comfy.
Sleeping bags
– While perfect for sleeping in a tent or even under the stars, a sleeping bag is also a great way to avoid having to make your bed—just roll up your sleeping bag each morning and you're done. This can also be a good bedding solution if your van or RV has a convertible bed that folds up during the day.
Clothing
More than anything else, the clothes you bring may be the biggest factor in having an enjoyable camping trip. The challenge is bringing enough wearable options without overpacking. The first thing to consider when it comes to choosing your clothes is the weather forecast. If you anticipate warm weather, you'll want to bring more
summer outfits
and clothes with
UPF-rated fabrics.
(Scientists recently found that
UPF clothing works better than sunscreen.)
Fall and
winter camping
will require warmer clothing and
water-resistant gear
(especially if you'll be
hiking in the rain
or doing other
wet-weather activities).
And remember, even warmer climates can cool off considerably at night, so be sure to bring lots of layering options regardless of the season—and know
how to layer properly.
Not only will you stay warm and dry, you'll have the option of ditching layers when things warm up. And anytime you're in the outdoors, you want to have plenty of moisture-wicking, quick-drying clothes with
technology like Omni-Wick
to absorb sweat and keep you comfortable.
THE ESSENTIALS
Jackets
– Climate and weather conditions are key in deciding
what type of jacket to bring,
and whether you'll need more than one. For cool early mornings and late nights, there's no better choice than a
puffer jacket
to keep you warm. If rain is in the forecast, you'll want to pack a
rain shell.
Or, opt for an
interchange jacket,
which provides three coats in one.
Midlayer
– Don't forget your midlayers. Things like
hoodies and fleece jackets
make great choices. If you need something extra warm, try fleece with
Omni-Heat™ Helix technology,
which uses performance heat cells for added insulation.
Shoes
– What shoes you bring will depend on both the weather and the activities you have planned. An
outdoor trail shoe
is always a good everyday option for camping, but if it's particularly warm or you're camping near water, you may also want a pair of
flip-flops
or
boating shoes.
And if rain is a factor, you'll want to bring
waterproof shoes
too.
Socks
– When you're in the outdoors, there are few things that feel better than slipping on a fresh, clean
pair of socks.
They take up very little room, so bring extra.
Hats
– Whether you're wanting to hold onto your body heat, shield the sun or rain, or hide the fact that you haven't showered in a few days, make sure there's always a
good hat or two
with you to do the job.
Booney hats, bucket hats
or other options with
UPF sun protection
make especially good choices in warmer weather.
Swimsuit
– Depending on the temperatures and how close you'll be camping to a river or stream, you may spend more time in a swimsuit or trunks than in actual clothes.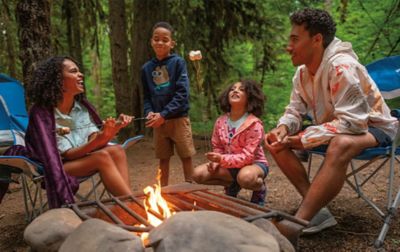 Personal Items
In addition to focusing on the good of the group, it's also important to focus on the things you personally need to fully enjoy your van or RV camping experience.
THE ESSENTIALS
Sunglasses
– No matter the forecast, it's always a good idea to bring a pair of
sunglasses
with you—it's bound to be bright at some point during your trip.
Sunscreen
– Again, whatever the forecast, plenty of sunscreen is a must—nothing ruins a good trip like a bad sunburn. And in the event you forget to reapply, you better bring the aloe as well.
Portable shower
– If your RV doesn't have a shower and you're not parked in a campground, a portable shower is a great way to feel clean and refreshed.
Dry shampoo
– The perfect way to help freshen up in between showering off—dry shampoo is like a shower in a can. We'd be surprised if this wasn't invented by an avid camper.
Biodegradable soap
– Bring soap that can be used without harming nearby water sources. To save space, you can find all-in-one camping soaps that can multitask as hand soap, body soap, and even dish soap
Tools
With limited space, there's no way you can bring
everything you could possibly need
on your camping trip. But with careful planning and packing, you can make sure you have all you need to handle just about any situation that may arise.
THE ESSENTIALS
Hatchet
– From chopping kindling to clearing small trees to hammering tent stakes into the ground, consider this a camping must-have.
Waterproof matches
– Whether you're lighting your campfire, lanterns, or cooktop burners, you need a fire source. And when you're outdoors, you might as well make that fire source waterproof.
First aid kit
– Anytime you're out in nature, and especially if you end up hiking or getting off the grid, it's important to have a well-stocked first aid kit. You may want to brush up on your
wilderness survival skills
too.
Multitool
– The name says it all—open cans and bottles, saw small branches, tighten screws, and more.
Light sources
– Even with your vehicle's interior lights, you'll need additional light sources anytime you stray away from camp. Lanterns and flashlights are great, but nothing beats keeping your hands free with a
headlamp.
Duct tape
– Campers have long relied on the versatility of duct tape for everything from labeling containers to repairing a tarp.
Broom
– A basic tool, sure, but a must-have for keeping the outdoors outside of your van or RV.
Roasting sticks
– If you don't have what you need to make s'mores and roasted hot dogs, is it even camping?
Outdoor Space
As comfy and inviting as the inside of your RV may be, camping is about spending time outside. And the better your outdoor setup, the more time everyone will spend in the great outdoors.

THE ESSENTIALS
Canopy– A covered area creates an outdoor gathering place that offers protection from both rain and sun.
Camp chairs – Everyone is fine not having their own camp chair, until it's time to sit around the campfire each night.
Hammock – Few things are quite as thoroughly relaxing as staring up through the trees from a hammock.
Outdoor carpet – Perfect for rolling out under your canopy, a large outdoor carpet helps define your outdoor space while also keeping feet a little cleaner.
String lights – A well-placed string or two of LED lights outside your trailer creates instant ambiance and adds a nicely lit area around your RV.
Bug repellent – Nothing sends people scrambling inside the RV like mosquitoes, so make sure you have plenty of bug spray and citronella candles to keep them away.
Entertainment
Knowing what to bring to keep everyone entertained will depend largely on the weather. For instance, if rainy weather will keep people inside, you'll want things like a deck of cards and plenty of board games and puzzles. The other important thing to consider is where you'll be. If you're going near a river or lake, you may want
fishing gear,
paddleboards
, or inner tubes. If you're headed to the mountains, you'll probably want
hiking gear
or mountain bikes to explore the area.
E-bikes
are also fun to have, and make excellent scouting devices if you need to make sure a dirt road has enough turnaround space.
THE ESSENTIALS
Indoor games
– Board games and cards are a great way to end the night or pass a rainy afternoon in the comfort of your RV.
Outdoor games
– Camping is about spending time outside, so make sure you bring a variety of things to do, from lawn games to sports equipment.
Binoculars
– Even a simple set of binoculars will give you a close-up view of the wildlife around you, or use them to visually scout ahead to where you're planning to hike or bike.
E-book reader
– While many may prefer the feel of a physical book, an E-book reader allows you to bring dozens of books with you while taking up very little space.
Backpack
– Whether you're going on a hike, or heading to a nearby lake from camp, you'll need something to carry your things. Choose the
right backpack
and you'll be in business.
Now that you have an idea of the key essentials, check out
the Complete RV Camping Checklist below. Happy travels!
Complete RV Camping Checklist
Here's a comprehensive checklist of most everything you'll need for your van or RV camping trip. Outside of this list, make sure to bring plenty of food (breakfast, lunch, dinner, and snacks). And before you hit the road, give your camping vehicle a thorough inspection, from tire condition to fluid levels.
COOKING/KITCHEN
Portable camp stove
Small kitchen appliances
Instant pot
Large cooler
Portable cooler
Cookware (pots, pans, etc.)
Tableware (plates, bowls, cups, mugs, etc.)
Utensils (knives, forks, spoons, etc.)
Cooking utensils (spatulas, wooden spoons, etc.)
Kitchen knife
Cutting board
Plastic storage bags
Storage containers
Dish soap and dishpan
Spices (salt, pepper, garlic powder, onion powder, etc.)
Condiments (mayo, mustard, ketchup, etc.)
Oils (cooking spray, olive oil, etc.)
Measuring cups and spoons
Paper towels
Sugar
Flour
Coffee and coffee maker
Pet food
Pet Bowls
SLEEPING/BEDDING
Sheets
Blankets
Pillows
Tent
Sleeping bags
Sleeping mats
Towels (beach, bath, and kitchen)
CLOTHING
Jackets (puffer, rain jacket, fleece, etc.)
Shoes (hiking boots, flip-flops, sandals)
Socks
Shirts (T-shirts, flannels, etc.)
Shorts
Pants
Sweatshirts
Underwear
Hats (beanie, sun hat, ball cap, etc.)
PERSONAL ITEMS
Sunglasses
Sunscreen
Soap/shampoo
Tweezers
Fingernail clippers
Nail file
Ibuprofen
Aspirin
Antacids
Lip balm
Chewing gum
Portable shower
First aid kit
TOOLS
Hatchet or ax
Multitool
Basic tool kit
Waterproof matches
Light sources (headlamps, lanterns, flashlights)
Batteries
Phone chargers
Extension cords
Roasting sticks
Duct tape
Broom and dust pan
Bucket
Rope
OUTDOOR SPACE
Canopy
Camp chairs
Folding table
Plastic tablecloth
Hammock
Outdoor carpet
String lights
Tarp
Portable clothes-drying rack
ENTERTAINMENT
Indoor games
Computer tablets
Outdoor games
Frisbee
Binoculars
E-book reader
Bikes
Bike helmets
Paddleboards
Personal flotation devices (PFD)
Inner tubes
Air pump